When decorating your home, fabric is a great material to consider. Not only does it add texture and interest to a room, but it's also relatively inexpensive and easy to work with, making it a great option for budget-conscious decorators. And because there are so many types of fabrics available, you're sure to find one that matches your personal style.
So if you're looking for a versatile and affordable way to decorate your home, consider using fabric. There are many ways to use fabric to add style to your home. Here are some of the best ways you can utilize them.
Upholster your furniture
Upholstery is a great way to add personality to your furniture and home. It's a simple way to change a room's look without buying new furniture. You can either upholster your existing furniture or buy new furniture that's already upholstered. There are many fabrics, colors, and patterns to choose from, so you can make your furniture unique.
Upholstering your furniture is also a great way to protect it from wear and tear. Fabric is much more durable than leather or vinyl, so it will last longer. And if you ever get tired of the fabric you chose, you can always reupholster it. So go ahead and give your furniture a fresh look with some upholstery.
Add throw pillows and blankets
Adding throw pillows and blankets is a quick and easy way to spruce up your home. They can be used to add color, pattern, and texture to any room. And best of all, they can be easily swapped out when you want to change your décor. Pillows are also great for adding comfort and support to chairs and sofas. They can be used to create a cozy reading nook or an inviting conversation area.
And when it comes to choosing blankets, there are endless possibilities. From lightweight summer throws to cozy winter quilts, you can find a style that suits your taste and needs. So if you're looking for a convenient way to upgrade your home, consider adding some throw pillows and blankets.
Create window treatments
Windows are one of the first places people look when they visit your home, so it's important to make sure they look great. One way to do this is by creating custom window treatments. You'll need to consider a few things when doing this, such as the size and shape of your windows, the type of fabric you want to use, and the style of the treatments.
Fortunately, a wide variety of options are available, so you're sure to find something that works for your home. Once you've decided on the perfect window treatments, all you need to do is measure your windows and then sew or purchase the treatments. Hang them up and enjoy the new look of your home.
Make slipcovers for your furniture
Giving your furniture a makeover is a quick and easy way to change the look of your home without breaking the bank. And one of the simplest ways to do it is to slipcover your chairs and sofas. Slipcovers come in a wide range of fabrics and styles, so you're sure to find one that suits you.
Also, they're easy to put on and take off, so you can change them out whenever you want a new look. Slipcovers are also great for protecting your furniture from spills and wear and tear. So if you're looking for a quick and easy way to improve your home, slipcovering your furniture is the way to go.
Hang fabric wall art
Fabric wall art is an easy and inexpensive way to add style and color to your home. Whether you opt for a pre-made piece or create your own, fabric wall art is a great way to personalize your space. Consider the design and colors when choosing fabric for your wall art. Patterns can be busy or subtle, and colors can be bold or subdued. If you want your wall art to make a statement, go for something bright and colorful. If you prefer a more understated look, choose fabrics in neutral tones.
Fabric wall art is also a great way to add texture to your décor. Smooth fabrics can create a feeling of calm, while textured fabrics can add interest and dimension. Hang your fabric wall art using tape, pushpins, or even thumbtacks. For a more permanent solution, use adhesive strips or Velcro. No matter how you choose to display it, fabric wall art is an easy way to add personality to your home.
Use stylish doormats and rugs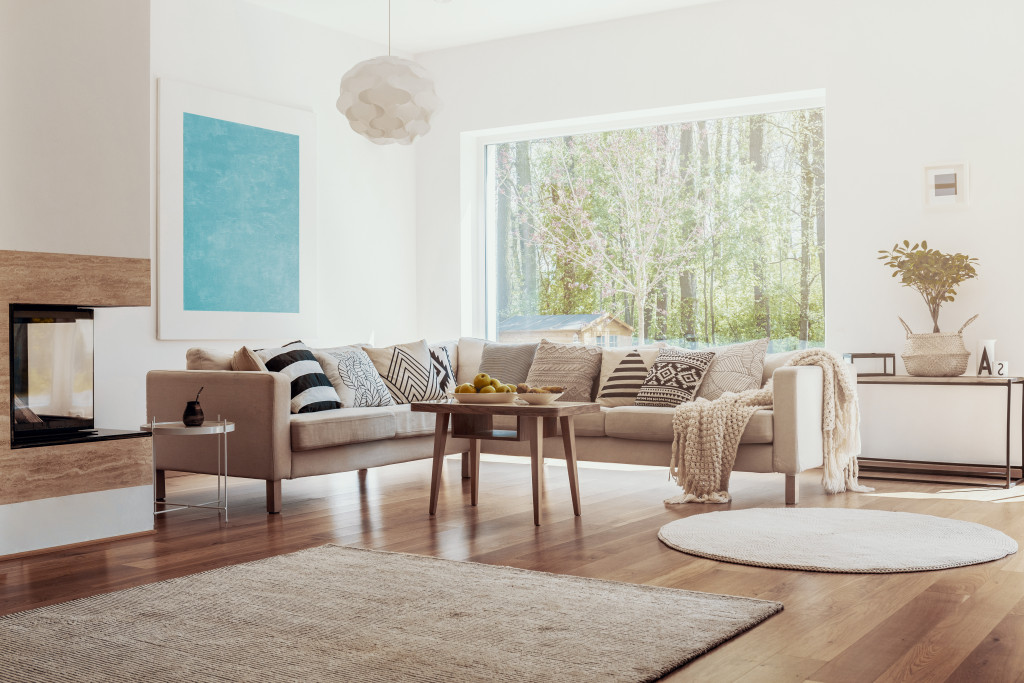 Give your home a quick, easy makeover with a new doormat or rug. Not only will it add a pop of color and personality to your space, but it will also help to keep your floors clean.
A good rug or doormat can also help to protect your floors from wear and tear. If you have hardwood floors, a rug can help to prevent scratches. And if you have tile or linoleum, a mat can help to prevent cracks and chips.
A good doormat should be durable and easy to clean, so look for one made from natural materials. A good option would be a natural jute doormat. A jute doormat is made from a sturdy material, so it will last for years. And it's easy to clean—simply shake it out or vacuum it. Having this doormat is a great and easy way to protect your floors and add style to your home.
With a little effort, you can give your home a whole new look with some new doormats and rugs.
These are just some of the many ways you can use fabrics to spruce up your home. Get creative and see what you can come up with. With a bit of effort, you can easily transform your space into something new and fresh.