Flooring is an important feature in the design and structure of a house or any type of building. They are more than just surfaces that we step on. Floors make a statement and enhance the overall design of a room or building, and that is why it is important to choose the right material for it.
Types and purpose
Flooring materials vary from wood, tiles, and stone to just a plain old slab of cement. These are permanent floor treatments or covering that may require installation or construction. The floor almost covers the entirety of the footprint of the building and additional floors. It would be best that the floors suit each of the design or mood of a room to create harmony. Materials for flooring should be sturdy to withstand the test of time. Also, it should fit within a homeowner's budget. Quality flooring materials are not always expensive, possibilities are endless because there are a lot of options available in the market today.
Showrooms can help narrow down your search for a perfect floor for the kitchen, bath, or anywhere else in the house. California has the best showrooms and resources for materials in residential and commercial buildings. But, if you are having difficulty choosing, there are a number of flooring services like in Santa Ana to help you. They can also help with the installation of the flooring material that you have chosen.
Here are some of the flooring material options to help you choose:
Ceramic or porcelain tile
Tile is one of the best options for bathrooms, kitchens, and laundry room it is also versatile enough to be placed anywhere in the house. Porcelain and glazed ceramic tile are a durable option for flooring, they are also easy to clean and maintain. But, grouts in tiles should be checked periodically if it is properly sealed to prevent staining. Tiles come in an array of colors and design. There are designs that look like brick, stone, and even wood. Tiles should be chosen carefully for use in areas where slipping can happen, like bathrooms and kitchens. Nonslip tiles should be chosen in these areas to prevent accidents.
Hardwood is the best-looking flooring material type because of its quality and sophistication. This is commonly used in living spaces and bedrooms, but is not suitable for areas that get wet or moist. Hardwood can also be adaptable to the room's temperature, as they are good insulators and are good sound absorbers which are good for acoustics.
Laminates are an inexpensive alternative to hardwood. It's essentially made of wood pulp and resin to look like real wood. It mimics any hardwood style from maple to cherry, and even reclaimed barn wood. It is made of medium-density fiberboard or MDF with a photo layer and thick polymer finish. It installs like hardwood with its tongue and groove, but some just snap together without the need for nails to hold it down.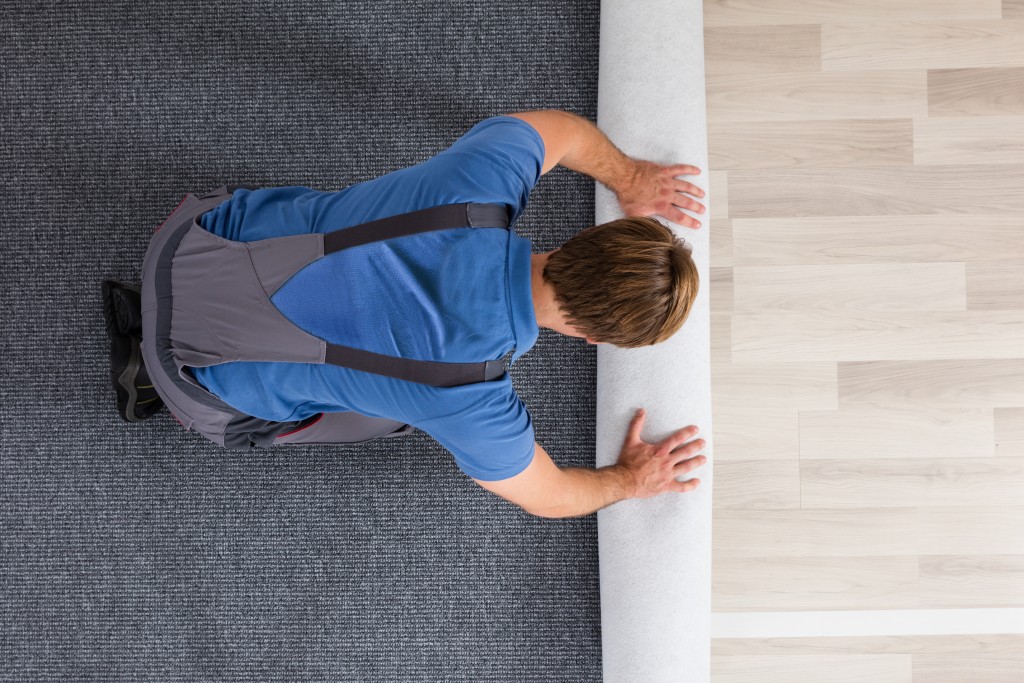 This warm and fuzzy flooring material is also a favorite of homeowners. Carpets come in a variety of colors and styles, and can easily match a design. It is soft and quiet as it is a good sound absorber which is nice in intimate areas like bedrooms and family rooms. Carpet is good in living spaces, but maintenance can be tricky. Professional services are recommended to thoroughly clean carpets. It is also prone to retaining moisture that can lead to mold and rot, which is not good if you have pets in the house.
Vinyl is made from plastic, mostly PVC, acrylic, or similar polymers. While linoleum is made from natural materials such as jute, cork, and linseed oil. They are durable flooring options and is moisture resistant. They also come in tiles and sheet forms which make them easy to install. Vinyl and linoleum are preferred to be installed in high-traffic areas like kitchen, dining, and laundry rooms. It is very easy to maintain and clean which is also one of its good quality.
Floors can make or break the design of the room; it should look natural in relation to the overall aesthetic. Always consider the goal and the purpose when choosing the right flooring material to make it less difficult.