Consider the color, fabric, and design of bridesmaid dresses for a cohesive look.
Accessorize with scarves, jewelry, shoes, and handbags for an elevated look. You can also provide handkerchiefs for each bridesmaid.
Choose a uniform hairstyle and makeup look for your bridesmaids to create a consistent appearance.
Don't forget the bouquets! You can choose flowers that match the dress color or go with the wedding theme.
Your bridesmaids play an essential role in your wedding, and it is customary for them to coordinate their dresses and accessories to blend with the wedding theme and color palette. But styling your bridesmaids doesn't have to be stressful or time-consuming. With these tips, you can create a cohesive and stunning look for your bridesmaids on your big day.
Consider the Dress Color, Fabric, and Design
When it comes to styling your bridesmaids, the first thing you need to consider is the dress color and fabric. Make sure the bridesmaid dresses are in harmony with your wedding dress and the overall theme of your wedding. The dress fabric should be breathable and comfortable.
As for the design, you need to choose dresses that fit the theme of your wedding while also making sure that each bridesmaid feels comfortable in the style she's wearing. If you want to make this search easier, go for dresses that can fit almost any theme and will look in any body type. Stylish modest bridesmaid dresses, for example, are perfect for any wedding.
Modest bridesmaid dresses are a stylish and timeless option for a wedding look. They are usually designed with knee-length to floor-length hems, cap or elbow-length sleeves, and comfortable necklines. Modest bridesmaid dresses tend to be made from lightweight and breathable fabrics, so they won't weigh your bridesmaids down.
Accessorize Wisely
Matching accessories will enhance the bridesmaid's look while coordinating with the wedding theme. There are many kinds of accessories that you can choose from, but here are a few of the best ones that will truly elevate your bridesmaids' looks:
Scarves
Scarves are a timeless and elegant way to dress up any bridesmaid look. Choose scarves in different fabrics, such as chiffon or silk, or select colors that match the bridesmaids' dresses for a unified look.
Jewelry
Jewelry can be an effective way of accentuating an outfit without going overboard. For understated elegance, go for delicate earrings and necklaces. For a more glamorous look, opt for statement pieces that will draw attention to the bridesmaids' dresses.
Shoes
Shoes complete any look, and they should be chosen carefully to ensure that your bridesmaids can walk comfortably all day. If you're looking for a classic look, select neutral-colored heels that match the color of their dresses. For a more colorful look, opt for bright-colored shoes or metallic hues.
Handbags
Your bridesmaids will need somewhere to store their essentials, so why not choose stylish and practical handbags for them? Clutches are a popular choice as they can be easily carried all day long. If you want something more spacious, go for a larger bag with enough room for everything your bridesmaids may need.
By taking time to accessorize your bridesmaids, you can be sure that they will look picture-perfect on your wedding day.
Choose a Uniform Hairstyle and Makeup Look
When it comes to styling bridesmaids, a uniform hairstyle and makeup can create a cohesive appearance. A classic updo is an excellent choice because it works for all hair textures and lengths, and it doesn't compete with the dress neckline.
For makeup, opt for a more natural look that highlights the eyes and lips without appearing too bold or dramatic. Additionally, choose a makeup shade that complements the colors of the bridesmaids' dresses. This will ensure that your bridesmaids look polished and put together.
Don't Forget the Bouquets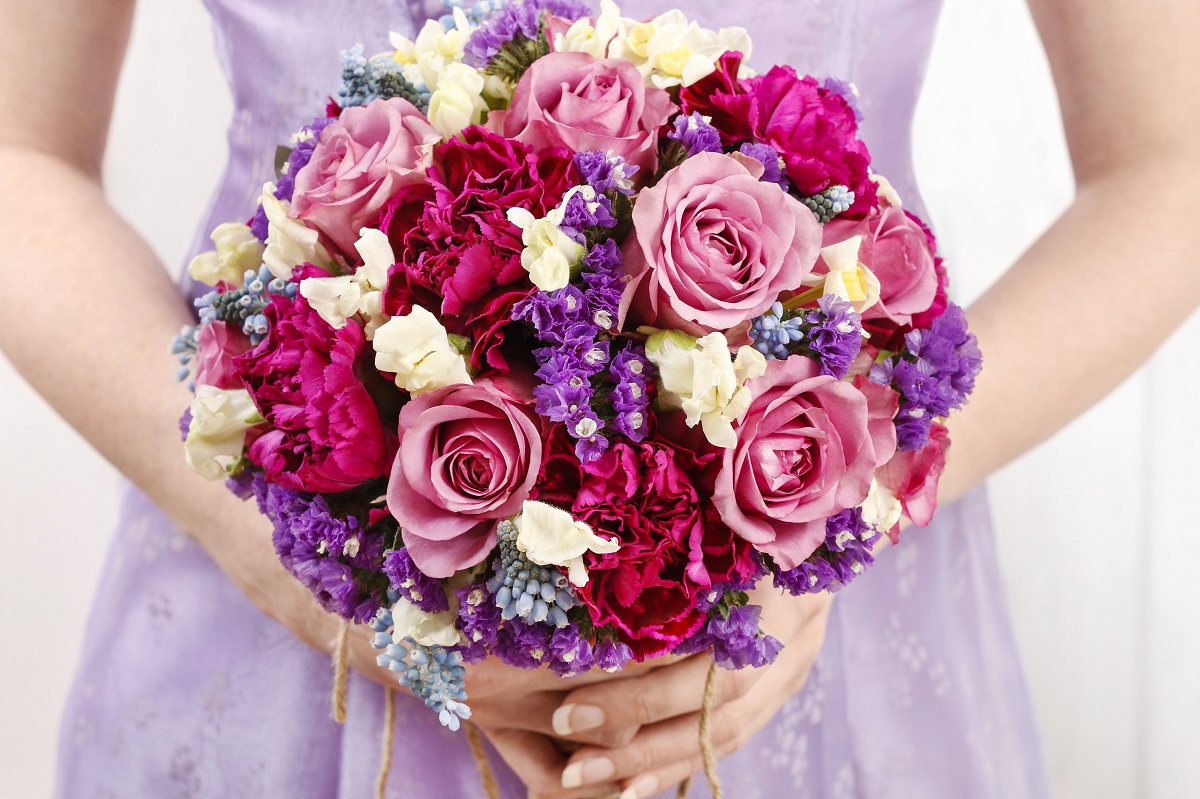 A bouquet is an excellent opportunity to accessorize your bridesmaids. Choose a flower that compliments the dress color or goes with the overall wedding theme. You can also mix and match different flowers to create bouquets that stand out from each other.
A smaller bouquet with simple greenery can create a pretty and effortless look. Additionally, provide a handkerchief for each bridesmaid to dry her tears of joy on your wedding day. This is sure to make an emotional and lasting impression on your bridesmaids.
By following these tips, you can achieve a cohesive and stunning look for your bridesmaids on the big day. From choosing the right dress color and fabric to accessorizing with scarves, jewelry, shoes, handbags, and bouquets – there are plenty of ways to ensure that each bridesmaid looks her best without going overboard. With careful planning and thoughtful styling choices, your wedding party will be picture-perfect in no time!