Caring for a terminally-ill senior can be an emotionally and physically challenging task. Health professionals must have the knowledge and skills to provide quality care for seniors.
This includes understanding the physical, psychological, spiritual, and social needs of the individual and their family members. This article will discuss the various health professionals you should know when caring for a terminally-ill senior.
Physician
Knowing a good physician when caring for a terminally-ill senior is essential to being prepared as a caregiver. In this scenario, a physician's duties and responsibilities are to assess the patient's medical condition, review test results, and develop appropriate treatment plans tailored to their situation.
They prescribe medications to manage the patient's symptoms and to improve their quality of life if applicable. Physicians can also keep family members updated on the patient's condition and provide additional resources for caretakers.
The ways that a physician can help when caring for a terminally-ill senior include providing support with symptom management, assisting during end-of-life decisions, counseling family members on grief, as well as discussing any treatments/procedures that may be beneficial even if they might only provide temporary relief.
Hospice Nurse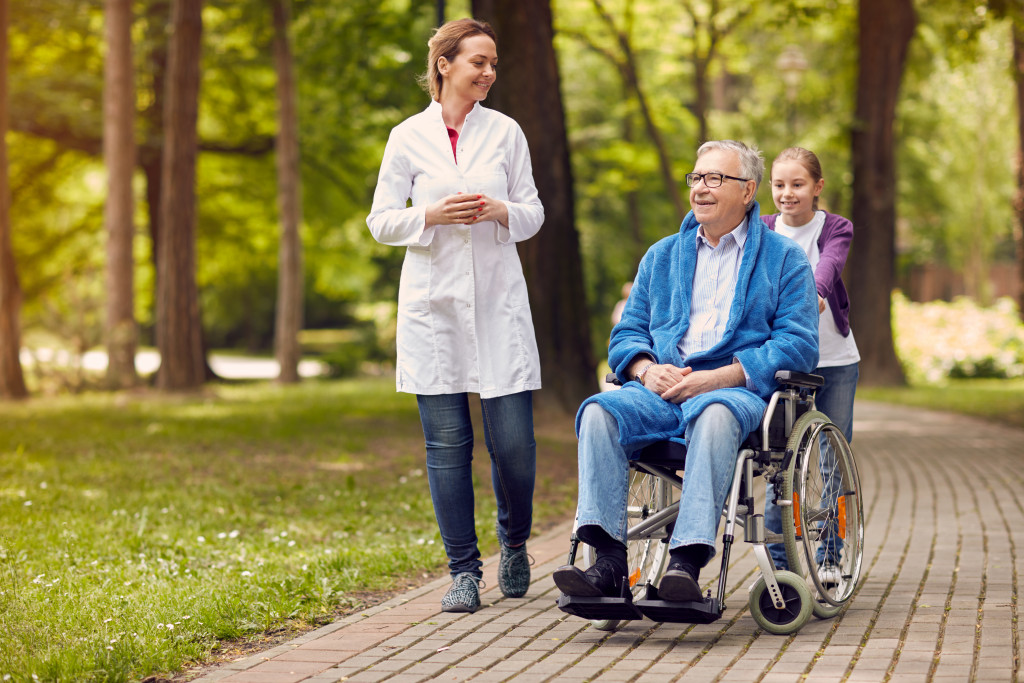 Hospice nurses are significant healthcare team members and provide a vital service when it comes to delivering compassionate care for a terminally-ill senior. As specially-trained healthcare professionals, they are responsible for assessing symptoms, managing pain, and providing emotional support in addition to helping families understand the medical aspects of a terminal diagnosis.
Reputable hospice nurses can provide valuable advice to those caring for a terminally-ill senior, such as how to look for signs of a symptom progressing and ways to provide comfort at end-of-life. They also have extensive experience when it comes to accessing appropriate resources, including clinical consultation and community services, so family members can feel comfortable knowing their loved one is receiving the care they need while surrounded by familiar people and things that bring comfort.
Psychologist or Psychiatrist
Psychologists and psychiatrists are essential health professionals that should be consulted when caring for a terminally-ill senior. Their duties and responsibilities include assessing and diagnosing mental disorders, designing specialized treatment plans and strategies to help manage psychological issues, counseling individuals and their families on coping strategies, providing emotional support, facilitating communication between family members, and recommending courses of action to aid in managing physical symptoms.
By consulting a psychologist or psychiatrist, caregivers can get guidance and advice on how to rightly approach difficult emotions associated with a terminal illness and better comprehend the complex problems older people might have about mental health issues. They can provide educational resources such as online information or community programs to learn more about being a caretaker for elderly individuals.
Social Worker
A social worker is a valuable health professional to have on the team when caring for a terminally-ill senior. Generally speaking, social workers act as a bridge between the person and their environment by offering emotional support, practical assessments of needs, education about available services and resources, and assistance with complex decision-making.
It is their responsibility to help clients establish a care plan that meets their individual needs – counseling or home care visits – while ensuring that they feel connected and supported. Social workers can guide this process and help caregivers understand the unique challenges of providing an elderly parent with palliative care, from managing pain levels to promoting communication and spiritual comfort.
For those struggling with the many stressors associated with end-of-life care for a loved one, having a qualified social worker by your side can make all the difference in helping them navigate these difficult times.
Occupational Therapist
Occupational therapists (OTs) are highly skilled, compassionate health professionals that can play a key role in the care of terminally-ill seniors. An OT will assess a senior's physical function and abilities, identify their needs and create a customized therapeutic plan to ensure the comfort and dignity of the individual.
To do this an OT may recommend adaptive equipment, such as raised toilet seats or grab bars to help with movement difficulties; suggest modifications to physical activities or daily routines; or recommend special programs for social engagement, relaxation techniques, and education about end-of-life concerns.
In addition to helping individuals manage pain, maintain maximal functional capacity, and adjust to life changes due to illness progression, an OT also provides carers with resources such as information on community services, exploration of home modifications, and supportive counseling. With these components collaboration in providing compassionate elderly care is thoughtfully cultivated.
These are some of the key health professionals that should be considered when caring for a terminally-ill senior. With their knowledge and expertise, caregivers can confidently provide the best possible care for their loved one. Ultimately, having a supportive team of medical and mental health professionals by your side can make all the difference in ensuring comfort and dignity throughout this difficult process.