Every homeowner deserves to have a house that they can be satisfied with and proud of, but not many people are fortunate enough to chance upon their dream homes. Some people are left to settle for their current homes just because it's what could fit in their tight budget.
That's why it's a good thing that home improvements and renovations exist. This option to make changes and upgrades around the house can work wonders for those who didn't have the opportunity to get their dream house but can exert some elbow grease to make it happen.
With home improvement, the possibilities of what homeowners can do are endless. They can choose to have another room built if they feel like the house is lacking or renovate the entire kitchen to get their open floor plan. They could repaint, redo, and reimagine the home to make their dreams come true.
But the only disadvantage here is that improving your home will cost money—money that you may not have or are not willing to spend on the redesign even if it can bring your joy. Fortunately, not all improvements need to put a hole through your pocket. Here are three hacks you can use:
1. Make Your Current Possessions Look Brand-new
All things will experience wear and tear. It's normal for your brand-new furniture to look weathered and neglected after a few years of use, especially if you don't invest your resources into making them look polished. However, that doesn't mean that you can no longer breathe new life into them.
Before you decide to dispose of any furniture that looks completely worn out, try to focus on its salvageable qualities if there are still any. For instance, your weathered sofa could be reupholstered with black leather and stuffed with new foams to make it appear as if it's newly bought.
Or if you have metal furniture that is rusty around the edges, you could look into professional sandblasting services to see if there's hope for your piece. This finishing method uses tiny sand particles that are pressure-blasted on the metal surface to remove any blemishes, leaving a smoothed metal that can then be repainted or powder coated.
There is no reason to give up on your current possessions unless they are obviously past the point of no return. This is especially true if you have no money to spend on buying new furniture pieces to replace the ones around your house. Don't spend your money until you really have to.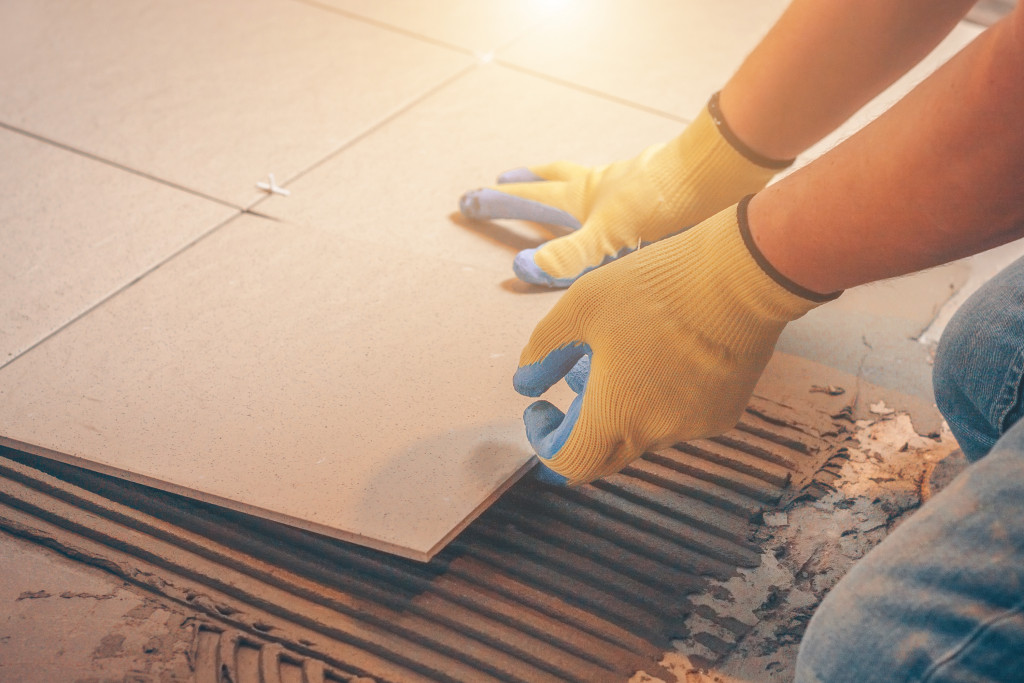 2. Try to Upcycle Your Old Things Before Tossing Them Out
Clothes aren't the only things that can be upcycled or reinvented other than their original purpose. You probably have a lot of old things lying around the house that you no longer use. You may be deciding to throw them out to create more space, but that would just be foolish.
This is not to say that you should hoard every single item you've ever owned, but you should give your things the benefit of the doubt. Maybe you could look at them from a fresh perspective or even go out of your way to pick the brains of strangers online. Who knows? You might chance upon great upcycling ideas while you're at it.
If there's any time that you should be putting your wild imagination to good use, this is it. The sky is the limit, which means nothing is stopping you from putting your hands to work and tinkering with your new inventions. This could also be a creative way to pass the time and relieve your stress from work.
3. Hit the Flea Markets and Thrift Shops for Bargain Finds
If you're sure that you need new things to improve the appearance of your home, try not to reach for the furniture catalog or swipe through shops online. This is because doing so might just spark envy and sadness in you since you can't afford the things that caught your eye.
Instead of punishing yourself, the best solution to this would be to hit all the flea markets, thrift shops, and garage sales that you can find. Not only is it a great way to rehome preloved items, but it's also an amazing strategy to score one-of-a-kind items at bargain prices.
You won't always need to take the long road or rough it out to turn your dreams into reality, but it's an actionable solution that could save you from breaking your bank. Besides, you don't have to make the improvements all at once. If you pace it out on a schedule that works for you, you will be well on your way to having the best house you could ever have.