Whether you just bought a new house or you've been living in the same place for years, it's natural to want to show it off to your friends. After all, your home is a reflection of your taste and style and a place where you can relax and feel comfortable. In fact, according to the profile of home buyers and sellers that were released by the National Association of Realtors®, the majority of people who purchased their homes prioritized the property's offered convenience to their friends and family more than affordability.
However, you don't have to spend a lot of money or make major changes to your home to impress your friends. There are plenty of subtle ways to show off your new house and make it look its best. Here are five tips:
1. Make sure the entryway is clean and inviting.
The first thing your guests will see in your house is the entryway. It's important to make a good impression, so take some time to focus on this area.
Make sure it's clutter-free and clean so your friends will feel welcomed as soon as they step inside. This means removing unnecessary furniture or decorations and ensuring clean floors and surfaces. If you have a coat rack, make sure it's tidy and organized. You can also place a mat at the door to catch any dirt or debris that might be brought in.
If you have a lot of guests, you may want to consider putting a bench or chair near the door so that they can take their shoes off and relax before entering the house. This will help keep the entryway clean and free of debris. Also, think about adding a few personal touches, like a nice piece of art or a stylish rug, to make the space more inviting.
Taking the time to make your entryway inviting will ensure that your guests feel at home from the moment they arrive.
2. Spruce up your living room.
Your living room is likely one of the most used rooms in your house, so it's important to make sure it looks its best. Consider rearranging the furniture to create a more inviting and comfortable space.
When arranging your furniture, it's important to think about how you want your living room to feel. Try moving the sofas and chairs into a more conversational arrangement. This will encourage your guests to gather together and talk. You can also try arranging the furniture in a way that promotes relaxation. For example, you could put a sofa near a window so your guests can enjoy the view while they relax.
If there's not enough space for everyone to sit comfortably, consider adding some extra seating, like floor cushions or a coffee table that can be used as a makeshift bench. This will give your guests more options for where to sit and will make the room feel more spacious.
With just a few simple changes, you can easily transform your living room into a space you're proud to show off.
3. Update your bathroom.
Your bathroom is yet another room that guests will see, so you'll want to ensure it looks its best. One way to do this is to update the fixtures and fittings. For example, you might want to install new towel bars, a stylish mirror, or even new taps that can make a big difference. If your bathroom looks a little tired, this is a great way to give it a quick facelift. And it doesn't have to cost a lot of money — plenty of affordable options are available.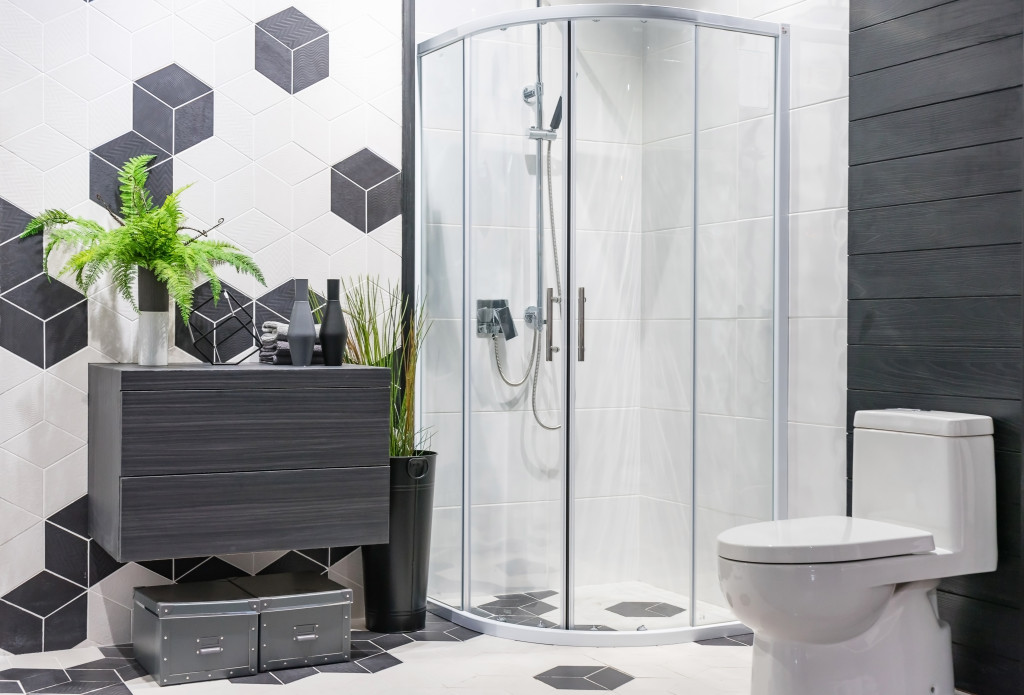 You could also consider replacing your shower curtain or adding customized glass shower doors. Not only will this make your bathroom look more luxurious, but it will also make it more functional. Glass shower doors are easy to keep clean, and they won't accumulate water spots as traditional shower curtains can. This is a great way to show off your attention to detail and your dedication to creating a high-quality living space. Plus, if you choose a stylish design, it will add an extra level of sophistication to your bathroom.
Small touches can greatly impact the overall look and feel of your bathroom. By taking these simple steps, you can easily impress your friends with your updated bathroom.
4. Give your kitchen a makeover.
Your kitchen is another important room in your house, and it's likely where you'll spend a lot of time entertaining guests. If your kitchen looks a little dated, consider giving it a makeover. You don't have to gut the entire space — something as simple as painting the cabinets or adding new hardware can make a big difference.
You can also consider adding some interesting dishes or cups to the shelves or hanging some artwork on the walls. You can also add some plants or flowers for a touch of color. If you're not sure what type of decorating style you want, try browsing online for inspiration or taking a trip to your local home store. There are plenty of ideas out there, and you're sure to find something that fits your taste and personality.
A kitchen makeover is a great way to show off your creative side and impress your friends with your attention to detail. By taking the time to update your kitchen, you'll create a space that everyone will enjoy spending time in.
5. Create an outdoor oasis.
If you have an outdoor space, make sure it's clean and inviting. Add some patio furniture or string lights to make it more inviting. Consider adding an umbrella to provide shade and comfort– your guests will appreciate it on hot days.
You can also add a fire pit or other heat source for chilly nights. An outdoor kitchen for cooking and dining is also a good idea if you regularly host barbecues. You might also want to plant some flowers or add a few potted plants.
Not only will your friends be impressed by your sense of style, but they'll also appreciate being able to escape the hustle and bustle of everyday life in such a beautiful setting.
No matter what your budget is, you can easily find ways to impress your friends with your new house. By making a few simple changes, you can create a stylish and inviting space. So don't wait any longer — start planning today and see the difference it makes when you host your next gathering.