You might have been yearning for a bigger and better house because you spent a substantial time at home—everything from a new paint job, new flooring, to even a whole-house makeover. It doesn't matter how big the project is since you're finally ready to make the home improvement you've brushed off in the past. All because you want your place to be as cozy and joyful as possible.
However, it's important to note that home improvement isn't created equal. And you wouldn't want the project that transforms your property into your dream home to be the reason future purchasers walk away. Therefore, before you embark on your home makeover and demolish the master bedroom or add a backyard pool, it is critical to determine whether the project will improve the value of your property or make it a tougher sell while on the market.
Take the scenery up
When it comes to the look of your house, first impressions are everything. This is especially true when preparing to put your property on the market. Begin by sprucing up the yard. This involves gardening, trimming overgrown plants and shrubs, clearing debris, and pressure-washing the pavement or the driveway. You may also choose to have your siding upgraded or get your fence customized with metal fabrication for structural stability and character for a more distinctive appearance.
A great deal of value may be added to any home by utilizing plants and trees. They have the additional advantage of significantly increasing the monetary worth of a property since they usually become more aesthetically beautiful with age. Planting shrubs and ground covers on your lawn or entrance doorway provides a positive and lasting impact on your abode. You can also increase the visibility of plants and flowers by adding fresh mulch or pine straw. When done right, the landscape may act as a sort of publicity even before the interior finishes.
Make Minimal Kitchen Renovation
Each individual's taste in kitchen design is unique. While the look of your cooking area is entirely up to you, it should always center on practicality whether you are adding new equipment or not. Keep in mind that outdated kitchens have a detrimental effect, regardless of their cabinets being worn and battered, their counters being scuffed, or their tiles mismatched.
Of course, you don't need to worry as this renovation doesn't require you to spend a tremendous amount of money. Indeed, a simple redesign of your kitchen will suffice, and the expense will likely be in the mid-range.
You may begin by applying a new layer of paint. Then update your aged cabinets and cupboards with the latest door and wooden frames. Make use of the extra space by replacing outdated equipment with newer, more energy-efficient models—a compact fridge, new cooktop, or range. Keep an inexpensive new faucet and sink, replace the laminate countertops with something stain-resistant, and consider using resilient flooring to handle more kitchen activities, accidents, and other mishaps.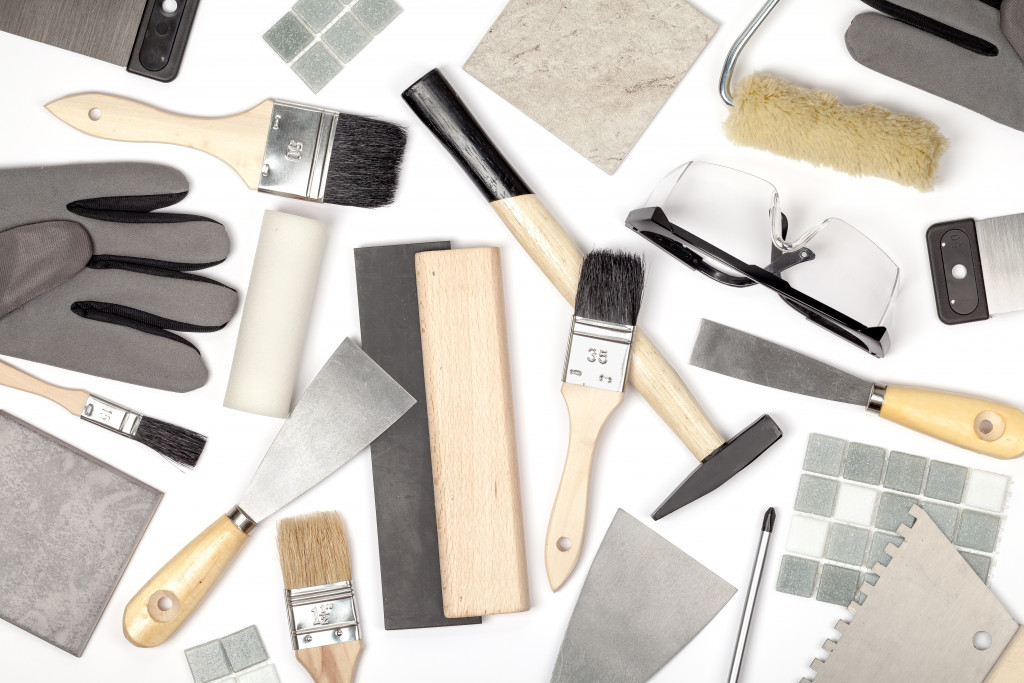 Consider a Deck Addition
Nothing beats spending time with friends and family in your outdoor living space. Understandably, installing a deck is a rather substantial undertaking in terms of both financial cost and work. You will likely engage an expert to develop a preliminary plan and a contractor to handle the construction.
Whether you want to try and do the job alone or follow through with your plan of doing it with help, make sure that you precisely design an appropriate deck for local inspections and adheres to building standards.
Renovate Your Bathroom
It's essential to select the best flooring for your bathroom, but the vanities and fixtures are both excellent places to begin a redesign. Moreover, a reglazing job could help you save money on future remodeling projects because it doesn't need to replace your tub. Bathroom details are more important in the small elements of a space. So whether you're working on the main bathroom or a smaller one, simply making modifications like installing dazzling knobs on cabinets and buying a sparkly new faucet for the sink can make a huge difference.
Your house is a representation of who you are. That is why homeowners must improve and rebuild their properties. Remodeling one's house is also a great way to invest your money and add value to a property.
Therefore, while choosing which area to remodel first, you must consider several aspects, such as the architecture of your home. While renovating your house will require extra, the advantage is that you will recoup the majority of your investment when it comes time to sell it. Thus, your property will likely sell faster if it is adequately renovated and has good curb appeal.