If we're being honest, one of the main reasons we love going on spa retreats and five-star hotel staycations is because we experience luxury there that we don't necessarily have at home. But since the pandemic enforced the importance of investing in our homes, now may be the best time to build the bathroom of your dreams. Here are some design ideas to transform your bathroom into a luxury getaway.
Mold-proof it
If your home is on the older side and you've never had your bathroom remodeled or renovated, now is a  good time to check if there has been mold or mildew growth anywhere. The worst thing about this home problem is that it doesn't necessarily make itself known until you strip your bathroom off its tiles and other fixtures, so upgrading your bathroom will allow you to find this out for yourself. Once you've eliminated any sign of mold growth, the next step is to ensure it never happens again. Enlist the help of professionals who can help you incorporate concrete sealers and coating to help add another strong layer of protection in your bathroom.
Maximize the view
One of the easiest and simplest ways of elevating any space in your home is by letting natural light in. If you live in an area with stunning views like mountains, trees, and the like, maximize that view by tearing down a wall and converting it into a floor-to-ceiling window, especially if privacy is not a problem in your property. Place your tub beside that window so you can enjoy your home's stunning views while soaking warmly in the tub.
Another design idea is to place a seating area of some kind beside the window; it doesn't have to be a tub. Incorporating a seating area can help give the window a "cozy nook" feel where you can do some relaxing and reading while getting away from your kids or the stresses of running a household.
Open it up
Another rule of thumb in interior design is the more open space is, the better it flows and the more opportunities you have to maximize its use. The idea of tearing down walls may be scary, but that's one of the best ways you can re-imagine the space. Step back and see which wing walls you can take out and what spaces you can use better if you remove their enclosure.
Another thing you should not neglect is the colors you choose for space. The general rule is that lighter colors go a long way in brightening up any space, so go for a warm white instead of a stark one t avoid making the space look too sterile, like a clinic. You might be surprised to find just how much natural light is available in your bathroom once you choose lighter colors. Place mirrors in strategic areas so that there will be more light to bounce off in your room, especially if you're unable to add windows or make them bigger.
Invest in a luxurious tub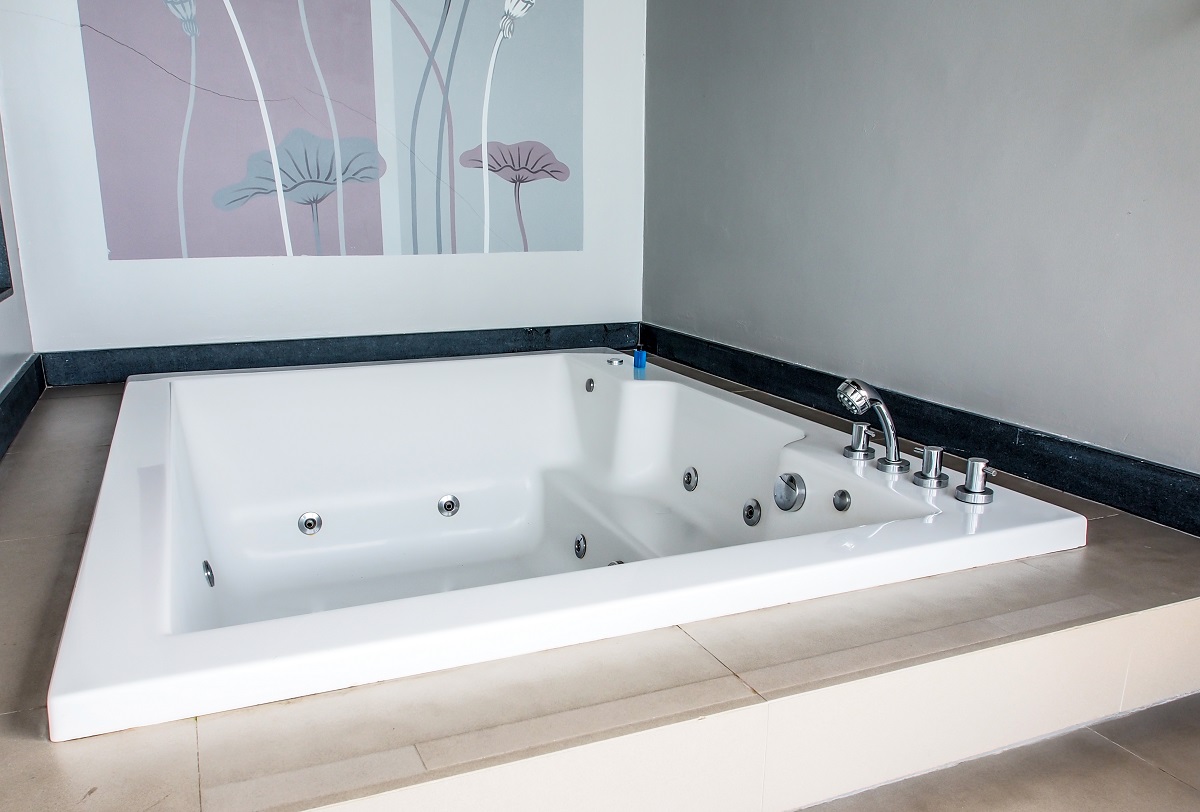 Invest in a deep bathtub you won't mind spending an hour or two in and center your bathroom around it. Choose a design that won't clash with the rest of the materials you use for the bathroom, whether it's metals or marble. Incorporate more seating areas around the tub if you and your partner do a lot of your talking in the bathroom.
Prioritize flooring
Do not underestimate the role floors play in the longevity of one's bathroom. Using a carpet for the bathroom renders the space a bit more outdated, so going for a well-designed tile may make more sense in terms of function and can also add more personality, tone, and dimension to your bathroom. If you're going for a warm white hue for your walls, consider opting for a more unexpected tile option, like a gray herringbone pattern or a striped one in a more unconventional shade.
Use high-quality materials
Nothing makes a bathroom look cheap, quite like low-quality materials. Note that "high-quality" does not always mean most expensive. You can look for materials like solid wood and stone, although the latter may be more suitable for a room that tends to have more moisture. Marble, travertine, and limestone are some of the most popular options for luxurious bathrooms, so make sure to look into these materials and use them cohesively for a seamless space.
If you want a space in your home where you can relax and feel like you're in a luxury getaway, invest in your bathroom. It will make for a wonderful escape whenever work and home responsibilities get too overwhelming.